----( NightStar Products )----[ LightStorm SL1 Crank Flashlight ]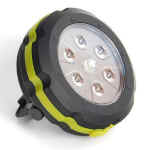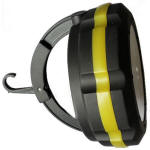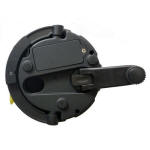 Images of the LightStorm SL1 Battery-Free LED Crank Flashlight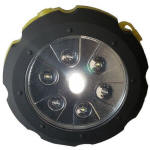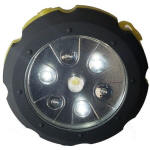 Images of the three LightStorm SL1 Operating Modes
It's a flashlight. It's a lantern. It's a worklight. It's an emergency beacon. It's a phone
charger. But it has no batteries, and it will work at 40° below zero (yes, the freezing
temperature of mercury). What is it? The new LightStorm SL1 magneto flashlight!

The fine folks at Applied Innovative Technologies, who brought you the superlative
NightStar line of shake-up flashlights, have released their second crank-up model,
the versatile LightStorm SL1. This amazing instrument totally redefines renewable
energy flashlights, with its long life, exciting features, and outstanding performance.
LightStorm continues the NightStar tradition of quality and engineering excellence.

Like all AIT flashlights, the new SL1 will never need batteries or bulbs, thanks to a
unique combination of LED lamp bulb and capacitor energy storage technologies.
Unlike most other available crank-up flashlights, you will not need to throw this one
away after two or three years when the batteries fail, because the SL1 contains no
batteries whatsoever. Its reliable ultra-capacitor can be recharged more than one
hundred thousand times, providing years of service with no maintenance expense.

But long life and low operating cost are just the beginning. Because the new Light-
Storm SL1 offers a long list of features that make this lighting instrument unlike any
other magneto flashlight ever devised. Three beam modes (white area, white flood,
and red flasher) can be selected at the touch of a button. The unique shape offers a
fold-out handle for flashlight use, a retractable hanger for lantern use, plus magnetic
tabs for easy attachment to ferrous surfaces like car hoods and tool boxes. A glow-
in-the-dark bezel ring makes it easy to find the flashlight in a backpack at night. The
built-in power jack lets you recharge a cell phone or music player, so you can make
calls or stay entertained even when there are no cars or power outlets nearby. All of
these remarkable features are combined into one handsome, compact, light weight,
rugged and reliable device, and for less than the cost of a rear balcony opera ticket.
Zero long-term operating cost, no batteries or bulbs to replace.
Lasts for years, utilizes a reliable brushless dynamo generator.
Carbon ultra-capacitor storage device will not corrode or leak.
Select any of three light modes with a single pushbutton switch.
Primary area beam mode provided by a Quasar 1/2-Watt LED.
Can illuminate a 12-foot diameter area at a distance of 25 feet.
Secondary flood beam mode provided by three StarCore LEDs.
Can illuminate an 18-foot diameter area at a distance of 15 feet.
Emergency beacon mode is provided by three bright red LEDs,
flashing about once per second and visible up to one mile away.
Crank handle for two minutes to fully charge the ultra-capacitor.
A red LED indicator confirms the appropriate cranking speed.
Full charge runtime: primary 15 minutes, secondary 17 minutes
(up to 5 minutes of bright light, 10 to 12 minutes of usable light).
Reflective LED panel allows daytime use as a signaling mirror.
Side-mounted charger output port has tight-fitting rubber cover.
Includes a two-foot-long power cord and a mini-USB connector.
Charges V3, V6, and Blackberry phones, MP3 or MP4 players.
Optional low-cost adapter plugs are available for other phones.
Size is 4" diameter, 1.5" thick, weighs 6.6 ounces (185 grams).
Operates perfectly in extreme temperatures (-40°F to +140°F).
Typical operating life of each LED is tens of thousands of hours.
Capacitor life is more than one hundred thousand charge cycles.
Flashlight resists weather, water, even diesel fuel and motor oil.
Impact-resistant ABS housing, unique new multi-purpose shape.
Enhanced-grip black body, with a yellow luminescent bezel ring.
Fold-out carrying handle, with an integrated retractable hanger
hook, provides convenient use as a flashlight or tent light. Three
magnetic tabs on back allow instant attachment for auto repairs.
Five-year limited warranty from Applied Innovative Technologies.
Suggested List Price: $29.95 - Our Sale Price: $24.95 Or Less!

LightStorm SL1 Flashlights
Item No
Unit Price
LightStorm SL1 Flashlight
7 LEDs (White Area / White Flood / Red Flash)
Black Body With Yellow Glow-In-The-Dark Ring
LS-S
$ 21.95
LightStorm SL1 Accessories
Item No
Unit Price
LightStorm Charger Connector - LG
For Models KG98, KG328, KG800, KG810
LS-A-L
$ 2.45
LightStorm Charger Connector - Nokia
For Models N70, N71, N72, 5200, 6080, 6300
LS-A-N
$ 2.45
LightStorm Charger Connector - Samsung
For Models D528, D808, D828, D838, D848, D908
LS-A-S
$ 2.45
LightStorm Charger Connector - Sony Ericsson
For Models T28, T29, R310, R320, A2618S
LS-A-E
$ 2.45
LightStorm Charger Connector - Micro USB
Newly Emerging Standard For The Very Latest Cell Phones
LS-A-U
$ 2.45
LightStorm Charger Connector - Mini USB
For Motorola V3 & V6, Blackberry, MP3 & MP4 Players
Replacement For Original Connector Supplied With The SL1
LS-A-M
$ 2.45
LightStorm Charger Cable (No Connectors)
Replacement For The Original Cable Supplied With The SL1
LS-A-C
$ 2.45

Click an Add To Cart or Back Order button to place an item in the shopping cart, for purchase with
your credit card or debit card. Add To Cart items are usually in stock, and typically arrive within
one week. Back Order items are not always in stock, but usually arrive within 2 to 3 weeks.
Click a View Cart button to review the shopping cart contents and/or complete your order.
Click any underscored Item No to review the associated product detail page or image.
See the Order Info page for complete details on ordering, payment, and shipping.


----( NightStar Products )----[ LightStorm SL1 Crank Flashlight ]