----( Rigel Systems Products )----[ Rigel Systems QuikFinder ]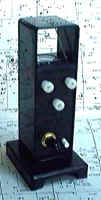 QuikFinder & BasePlate

Pulsed Reticle Demo
Images of the Rigel Systems QuikFinder Variable Reticle LED Reflex Sight
The darling of astronomers everywhere, the versatile QuikFinder compact reflex sight
was created by Dr. Leon Palmer. It's easy to install and adjust, and it's feature packed.
1/2- and 2-degree red circles, with adjustable brightness and a variable pulse feature.
Special Offer: We provide an extra CR2032 lithium battery, free with every QuikFinder!
We also include free batteries when you buy the optional AA Battery Pack accessory.
Click on the link to view or download the user operations manual for the Rigel Systems
QuikFinder sight. Open this file with Adobe Acrobat (or free Adobe Acrobat Reader
program, which can be downloaded at no charge from the Adobe Systems web site).
Great for binoculars, perfect for telescopes of any size.
Easier to use and more versatile than competitive units.
An ultra-efficient red LED helps to conserve battery life.
Adjustable brightness lets you locate the faintest objects.
Switchable pulse mode also has variable rate adjustment.
Handsome and durable, black plastic case is light weight.
Finder body clips onto baseplate for easy attachment and
removal without screws, and two baseplates are included.
Baseplate attaches to scope with included adhesive strips,
or use rubber bands, nylon cable ties, or screws as desired.
Includes 1 small (4" tube) and 1 large (8" tube) baseplate.
Extra baseplates available, for use with additional scopes.
Uses a single lithium coin-cell battery (included) for about
250 hours of runtime, can be easily replaced without tools.
Install the optional AA battery pack (sold separately) to get
over 2500 hours of runtime from two AA alkaline batteries.
Five-year limited factory warranty from Rigel Systems.

Rigel Systems QuikFinder
Item No
Unit Price
Rigel Systems QuikFinder Compact Reflex Sight
Red LED - Black Body
We include an extra premium quality lithium coin battery.
RS-QF
$ 44.95
Rigel Systems QuikFinder Accessories
Item No
Unit Price
Maxell CR2032 Lithium Replacement Battery (1)
BL-32M-1
$ 0.95
Rigel Systems QuikFinder BasePlate - Small
Extra baseplate for four-inch tube diameter telescopes.
RS-QFBS
$ 7.95
Rigel Systems QuikFinder BasePlate - Large
Extra baseplate for eight-inch tube diameter telescopes.
RS-QFBL
$ 7.95
Rigel Systems QuikFinder 2AA Battery Pack
Extends runtime to 2500+ hours with alkaline batteries.
Instructions included, no soldering is required to install.
We include two fresh, premium quality alkaline batteries.
RS-QFAA
$ 12.95

Click an Add To Cart or Back Order button to place an item in the shopping cart, for purchase with
your credit card or debit card. Add To Cart items are usually in stock, and typically arrive within
two weeks. Back Order items aren't always in stock, but usually arrive in three to four weeks.
Click a View Cart button to review the shopping cart contents and/or complete your order.
Click any underscored Item No to review the associated product detail page or image.
See the Order Info page for complete details on ordering, payment, and shipping.


----( Rigel Systems Products )----[ Rigel Systems QuikFinder ]