----( Princeton Tec Products )----[ Princeton Tec Replacement Bulbs ]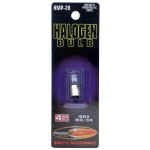 Image of packaged Princeton Tec Replacement Bulb (blister card shown)
Top-quality, factory-brand replacement bulbs for the most popular Princeton Tec
flashlight and headlamp models. Convenient blister card packaging keeps your
bulbs protected and free of dust. See the list below for available type numbers.
Be sure to buy a spare bulb and take it with you, so you can keep your head-
lamp in working order during emergencies or when the going gets tough.
Some popular Princeton Tec accessory items are also available below.

Note that all of the bulbs listed below are genuine Princeton Tec bulbs,
provided on factory blister cards, with no clones or type substitutions.
For example, several substitute type numbers can be used in place
of the HPR-52 for 2-AA flashlights, but most will not be as bright.


Princeton Tec Replacement Bulbs
Type
Number
Fits These
PTec Models
Batteries
Used
Bulb
Style
Image
(click to
enlarge)
Item
Number
Unit
Price
B-2
Discontinued
By Factory
Blast
Sea Star
2 AAA
Xenon
with
Reflector
PT-B2
$ 5.95
B-4
Discontinued
By Factory
Rage
4 AAA
Xenon
with
Reflector
PT-B4
$ 5.95
HMP-20
Tec 40
Predator Pro
Vortec
4 AA
Halogen
Flange
PT-4A
$ 6.95
HPR-50
Tec 400
4 C
Halogen
Flange
PT-4C
$ 6.95
HPR-52
Tec 20
Predator
Quest Solo
2 AA
Halogen
Flange
PT-2A
$ 6.95
S-8
Surge
Torrent
8 AA
Xenon
Bi-pin
PT-S8
$ 6.95
YK-1
Yukon
3 AA
Xenon
Bi-pin
PT-YB
$ 6.95
YKE-1
Yukon Extreme
8 AA
Xenon
Tri-pin
PT-XB
$ 10.95
Princeton Tec Accessory Items
Type
Number
Fits These
PTec Models
Item
Type
Image
(click to
enlarge)
Item
Number
Unit
Price
401-RD
Tec 40
Impact XL
Vortec
Yukon (All Models)
Red
Lens
Cap
PT-RL
$ 4.95
HL-103
Apex
Quad
Vortec
Yukon
Hard
Hat
Strap
PT-HS
$ 3.95

Click an Add To Cart or Back Order button to place an item in the shopping cart, for purchase with
your credit card or debit card. Add To Cart items are usually in stock, and typically arrive within
one week. Back Order items aren't always in stock, but usually arrive in two to three weeks.
Click a View Cart button to review the shopping cart contents and/or complete your order.
Click any of the product images to view a larger picture in a separate browser window.
See the Order Info page for complete details on ordering, payment, and shipping.


----( Princeton Tec Products )----[ Princeton Tec Replacement Bulbs ]