----( Lightwave Products )----[ Lightwave Pro4000 ]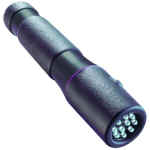 Image of the Lightwave Pro4000 LED Flashlight
The world's first D-cell LED flashlight is handsome, shock-proof, and water-proof.
It's one of our most powerful LED flashlights, with ten super-bright white LED bulbs.

Compare light intensity over time, versus a brand-name krypton flashlight, in this chart:
LW4000Graph.PDF. Open it with Adobe Acrobat (or the free Adobe Acrobat Reader
program, which can be downloaded at no charge from the Adobe Systems web site).
The krypton flashlight starts out brighter, but becomes dimmer after just thirty minutes.

Closeout Alert: Lightwave has discontinued all product sales. None of the Lightwave
brand flashlights are available, and all Lightwave product warranties have expired. A
small number of Lightwave accessory items may remain available for certain models.
| | |
| --- | --- |
| | Super-bright, easy-to-see, white LEDs will last for many thousands of hours. |
| | Special circuitry extends battery life, for up to thirty days of continuous use. |
| | Extremely low operating cost (batteries & bulbs) of about one cent per hour. |
| | All weather construction is water-proof to one foot (not for scuba diving use). |
| | Shock-proof case design will typically withstand a four-foot drop to concrete. |
| | High-impact ABS plastic case, with genuine rubber molding for easier grip. |
| | Industrial grade push-button switch is rated for 10,000 on-off operations. |
| | Overall size: 2 inches in diameter by 10.8 inches long. |
| | Requires 3 D-cell alkaline batteries (not included). |
| | The three-year limited factory warranty from Lightwave has now expired. |
| | Suggested List Price: $59.95 - Our Price: $49.95! |
Lightwave Pro4000 Flashlights
Item No
Unit Price
Lightwave Pro4000 Flashlight - 10 White LEDs
LW-4000
$ 49.95
Lightwave Pro4000 Accessories
Item No
Unit Price
Nylon Ring Holster - Lightwave Pro4000
LA-NRH-40
$ 7.95
Red Traffic Wand - Lightwave Pro4000
LA-RTW-40
$ 7.95
Energizer Alkaline D Batteries (3) *
BA-DE-3
$ 3.75
+ $ 2.00 S&H

Click an Add To Cart or Back Order button to place an item in the shopping cart, for purchase with
your credit card or debit card. Add To Cart items are usually in stock, and typically arrive within
one week. Back Order items aren't always in stock, but usually arrive within just two weeks.
Click a View Cart button to review the shopping cart contents and/or complete your order.
Click any underscored Item No to review the associated product detail page or image.
See the Order Info page for complete details on ordering, payment, and shipping.
* Due to their heavy weight, additional shipping charges apply to D batteries.


----( Lightwave Products )----[ Lightwave Pro4000 ]